Odoo - the only software you will need to run your business:
Integrated apps
kept simple and loved by millions of satisfied users.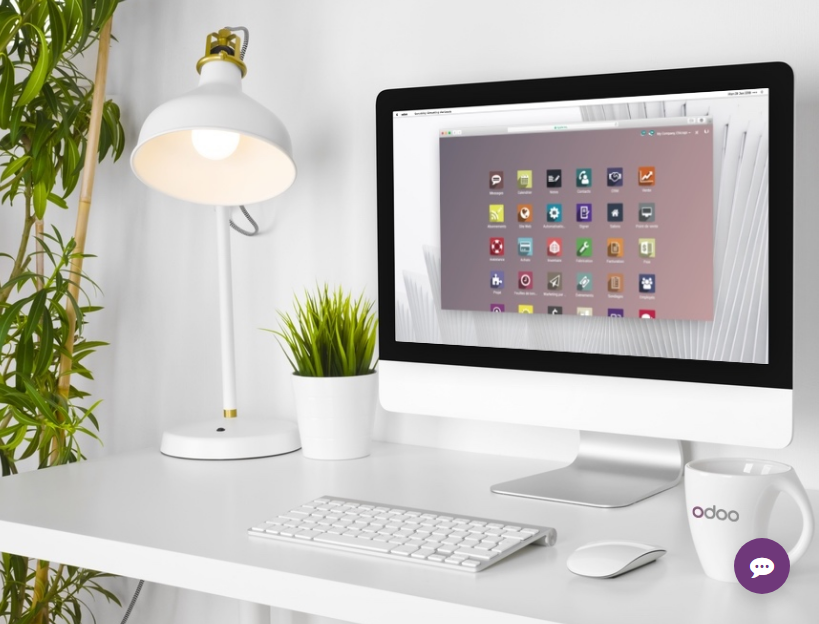 Odoo - A Unique Value Proposition
Everything you need with a top-notch user experience. Odoo is a suite of open-source business apps that cover all your company needs: Sales, CRM, eCommerce, Accounting, Purchase, Inventory, Point of sale, Manufacturing, Projects, etc. Odoo's unique value proposition is to be at the same time very easy to use and fully integrated.
World's most successful ERP system with 7 million users

With 2,500 employees one of the largest ERP providers

80 main modules

With 40,000 additional modules, the most ERP apps

Website builder with 700 themes

Licensing / Warranty by Odoo

Open Source - Customizable

100% web-based works on all PCs and Mobile devices

Lowest price ERP only $24 per month per user with all modules

​

Odoo - the only software you will need to run your business:
Why Odoo
​Odoo is affordable
ERP software is expensive. But choosing a good ERP brings quick ROI, making the change worthwhile.
Odoo is suitable for SMEs and large businesses alike because of its affordability. You can acquire the platform on a subscription basis. The operation costs are reasonable.
Additionally, it offers all the capabilities of high-end ERP solutions at a low price.
Therefore, smaller organizations can pick their preferred software applications and modules at a nominal budget to get started.
​Odoo is highly customizable
Odoo is modular. This means that it has dedicated modules for different functions. It has best business practices built in. You can easily fulfill the gaps and wish lists that are lacking in your current system. Further, you can customize the ERP by choosing only specific modules needed by the business. This fluidity ensures that it fits different business models.
Additionally, you can add modules and apps when business processes change or new departments come up.

​Odoo is easy to implement
Implementing a new ERP is time-consuming. The methodology and execution are also critical.
A special feature of Odoo is seamless adoption. You can easily transition to Odoo with minimum disruption to the business.
The user interface is easy to use. You can customize the design and create an interface that appeals to staff. So, it becomes easier for them to use it effectively.
This reduces the learning curve and ensures that Odoo migration is quick and almost seamless.
​Odoo is backed by technology
Odoo cloud servers are hosted in trusted data centers. Strong security restrictions ensure data security and protection. Although, it also has on-premise options.
Odoo ERP is very versatile. The system easily integrates with third-party apps and legacy software. It can even connect with advanced systems using IoT and biometric device technology with the added advantage that you will not need any additional interfaces for integration, so the business runs seamlessly.
Odoo is undemanding compared to other ERP solutions.

Odoo is a highly scalable platform
When choosing an ERP, it is important to plan for future needs and not only on current requirements.
With Odoo, it is easy to add/create new modules. You can remove modules or customize existing and new modules without effort. So, everything about it can be changed.
Hence, it adapts well to growing business needs. The cloud-based nature of Odoo also makes it easy to scale up or down.

Odoo offers excellent support
​Odoo, being open-source, has a strong online support community. In addition, the company provides a lot of supporting Odoo documentation.
You can install Odoo easily by yourself on your server. But you may face some challenges during implementation. This arises because Odoo is an extensive suite of business management tools.
An easier option is to connect with an authorized Odoo partner to set it up.
Odoo - the only software you will need to run your business:
Unleash your growth potential
​
No more painful integrations.
If you have individual software solutions that work, but don't talk to each other, you are probably entering things more than once and missing a comprehensive overview of what's going on.
Between the Odoo apps and the tens of thousands of Community apps, there is something to help address all of your business needs in a single, cost-effective and modular solution: no more work to get different technology cooperating.
Odoo apps are perfectly integrated with each other, allowing you to fully automate your business processes and reap the savings and benefits.
Odoo - the only software you will need to run your business:
80 main modules and 40,000 additional modules
FINANCE

Accounting

Invoicing

Expenses

Spreadsheet (BI)

Documents

Sign

SALES

CRM

Sales

Point of Sale

Subscriptions

Rental

Amazon Connector

WEBSITE

Website Builder

eCommerce

Blogs

Forum

Live Chat

eLearning

INVENTORY & MRP

Inventory

Manufacturing

PLM

Purchase

Maintenance

Quality

HUMAN RESOURCES

Employees

Recruitment

Time Off

Appraisals

Referrals

Fleet

MARKETING

Social Marketing

Email Marketing

SMS Marketing

Events

Marketing Automation

Surveys

SERVICES

Project

Timesheet

Field Service

Helpdesk

Planning

Appointments

PRODUCTIVITY

Discuss

Approvals

IoT

VoIP

Knowledge
Odoo - the only software you will need to run your business:
A Unique Value proposition
A unique value proposition: Everything you need with a top-notch user experience.
Our family of apps works seamlessly together - giving you the ability to automate and track everything you do - centralized, online, and accessible from anywhere with any device.
With a modern and elegant technical design, Odoo's framework is unique. It allows us and our community developers to provide top-notch usability that scales across all apps.
Finally, with regular annual releases, Odoo evolves much faster than any other solution. Usability improvements made to Odoo will be automatically applied to all of our integrated apps.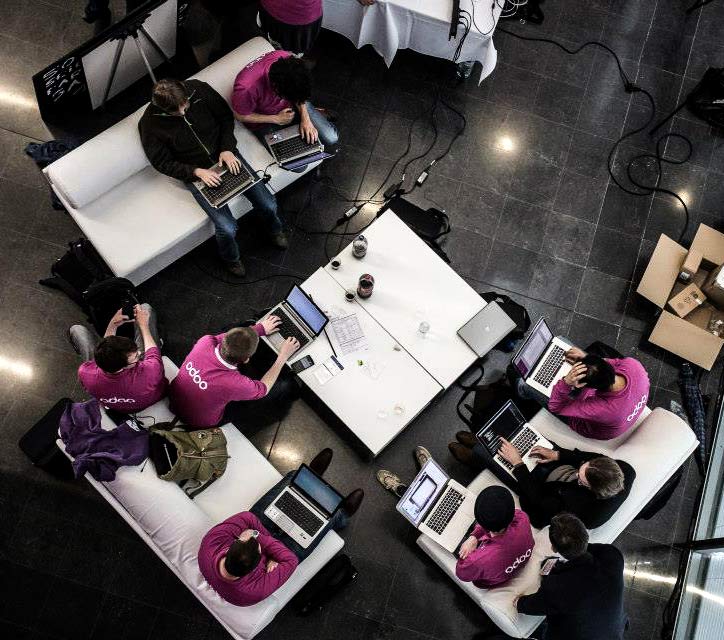 What makes Odoo different?
A smooth and friendly user's experience that has been built to ensure the user seamless adoption.
Fluidity and full integration cover the needs of even the most complex companies.
The flexibility of Odoo is such that apps can be added according to the growth of your company, adding one app at a time as your needs evolve and your customer base grows.
The open-source development model of Odoo has allowed to leverage thousands of developers and business experts to build the world's largest ecosystem of fully integrated business apps. Odoo is actively maintained by a large base of developers to meet evolving customer needs and provide new, innovative applications.
Odoo - the only software you will need to run your business:
Hosting Options
Depending on the edition you use, there are different hosting types.
Hosting defines how you will access your Odoo database and what your responsibilities are towards it.
Odoo Enterprise apps can be hosted on 3 different platforms: Odoo Online, Odoo.sh (dedicated cloud), or On-Premises using your own infrastructure. Let's compare the pros and cons of each platform to help you find the option that best suits the needs of your company.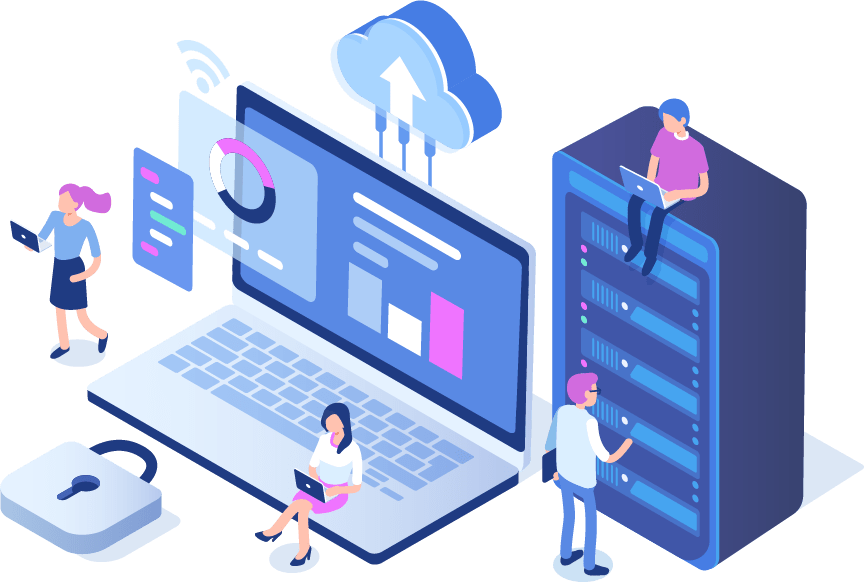 The
Online hosting is the SaaS (Software as a Service) type
It allows you to access your Odoo database from the cloud.
Through a web browser, you simply need to connect with your credentials and you can access your database. With this type of hosting, you have no responsibility to maintain your database as everything is managed by Odoo.
Key Features of online hosting
Cloud-based

No server maintenance required

100% hacking-safe



Internet connection required

Migration to updated version included

Odoo standard (no cutomizations)



No installation required

Email server included

Odoo apps only (no third-party apps)





The On-Premise hosting is "local"
You need to download the software and install it, either on your computer or on your server.
With this type of implementation you are responsible for everything related to the running of the software. You must purchase the network infrastructure, power, servers, operating system, etc. You also need to maintain all necessary infrastructures to keep it running, safe, and up to date.
The On-Premise hosting gives you full control and autonomy of your installation. You do need to have fairly advanced technical knowledge in order to successfully implement and maintain this kind of hosting.
Key Features of on-premise hosting
Local installation

Technical knowledge required to ensure maintenance, back-ups, safety of data



Customization possible (on existing apps or to create new apps)

Migration to updated version included



Third-party application installation possible

Full control, full autonomy and full responsibility





PaaS (Platform as a Service):
Odoo.sh
We also offer a PaaS (Platform as a Service), Odoo.sh, which is a mix between the two hosting types mentioned above. It allows you to create your cloud-based database whilst having custom developments or third-party apps installed.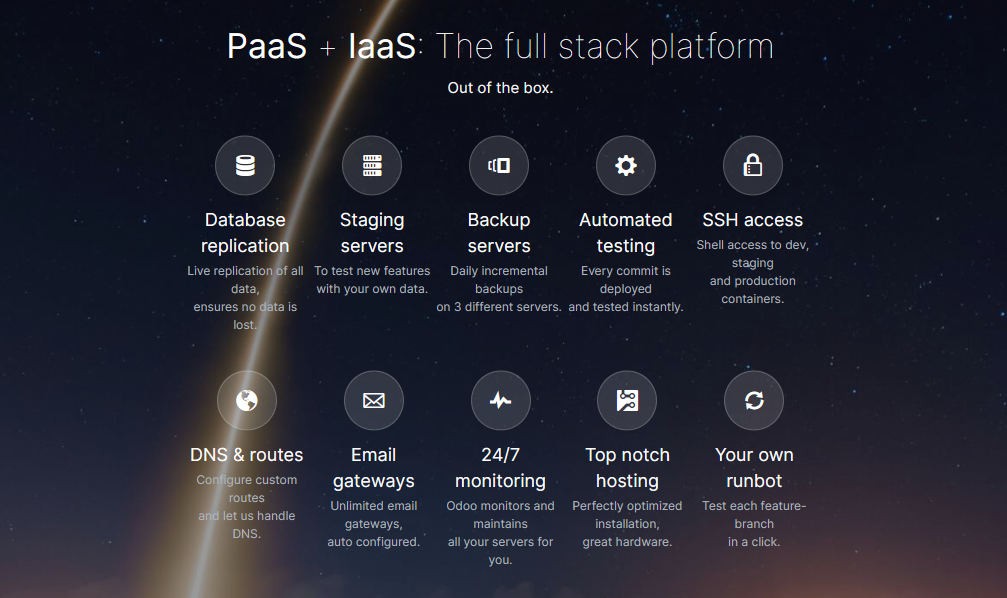 Odoo.sh is made for customized Odoo implementations: you can easily install our certified apps as well as any third-party apps available on the Odoo apps store.
Moreover, you'll find built-in tools that will help you to develop new apps and custom features such as:
Integration with Github

Continuous integration (your own "runbot")

Branch management (track, fork, merge, etc...)

And more
An online editor

A development and staging environment

Automated testing of every new commit
Odoo.sh gives you access to these tools. The platform is managed by Odoo SA, and we guarantee the same Service Level Agreement that we do for Odoo Online: 99.9% of uptime. We also do full incremental backup of your production environment every day. These backups are kept on 3 distinct data centers, on different continents, allowing you to download any backups within the last 3 months.
Odoo.sh gives you the flexibility to choose the best deployment architecture (number of workers, storage, and number of staging environments) and lets you easily adjust your configuration as your needs evolve. The platform will scale as your company grows!
The platform gives you the best of both worlds: the deployment and maintenance convenience of Odoo Online combined with the freedom of Odoo On-Premises.
Odoo - the only software you will need to run your business:
Offices worldwide